July 2023 marks the 23-Year anniversary of OPSoftware and our chain store cross-reference database!
For over 23 years now, we have fine tuned the processes, added sources, and updated our dealer tools to deliver the finest competitive intelligence product for independent dealers - ever!
The new Item411 is the latest tool in the delivery of our exhaustive database of competitive intelligence.
Item411 has been completely redesigned using Microsoft's MVC technology.
A view switcher link has been added to most pages allowing the user to easily switch between a mobile view/desktop view when on a mobile device.
We have added several new Chain Sources to the mix.
A new Custom Settings section for those sales reps on the go.
New Quick View link buttons are now available on all search results items.
We added the ability to input quantity and price when adding an item to bid.

is now here!
Market Xpert is a robust tool to cross-reference competitor product pricing, taking the guess-work out of bid strategy. It is your game-changer for competitive bidding and contract pricing.
Information is power. The more you have, the better you can compete in the market.
How does your competition price a specific item?
Can you offer a better deal and remain profitable?
Can you adjust your price to win that contract?
Can you change the product mix to reduce customer budget?
Can you substitute private label products to change the bid?
Market Xpert arms you with the information to win business without losing profitability. Market Xpert is your tool for making informed decisions about margin management and pricing strategy.
Please Note: Market Xpert was designed in cooperation with Essendant to provide an enhanced version of Item411 to Essendant first call customers. If you are a Essendant first call customer and would like to switch to Market Xpert, please contact us with your request.
Bid Wizard is included with Item411 and Market Xpert
Imagine uploading a 10,000 item bid sheet with Depot numbers, having a tool that will automatically match the items, and then exporting your file with Essendant item numbers, SP Item numbers, Depot item and manufacturer numbers, AND current Depot pricing! All in less than 15 minutes!
OPSoftware's new Bid Wizard makes it all possible!
OPSoftware's new Bid Wizard puts an end to the games played by the chains and puts you in control. Upload Excel files to Bid Wizard with practically anybody's item numbers and we will convert it to the wholesaler(s) of your choice and add chain store pricing from multiple sources!
Bid Wizard has processed over 391,400 bids!
Key Bid Wizard Features:
Converts practically any item number, Chain Store, Wholesaler, and More!
Upload and Match files with over 80,000 items! HUGE Twenty Megabyte Limit!
Manually match or change item matches!
New - Choose a wholesaler price plan/matrix and add chain pricing!
Export data from multiple wholesaler sources!
Export data from multiple chain sources!
New ADX Management Console
We have finished a new interactive console in order to give dealers more control over their OPSoftware account.
The ADX Management Console gives you control over the following items:
Your Companies Profile.
Company Options.
The ability to limit accessibility to 411 web sites through group or member options.
Create group records to specify options that apply to many user members.
Create member records. Add members to a group or specify options that only apply to this member.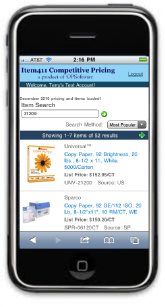 We've Gone Mobile

Just point your mobile device browser to Item411.com or UnitedMarketXpert.com and we'll do the rest automatically switching you to the respective mobile site view!

Many of the popular features of Item411 will now be available on your mobile device. Always have critical pricing information at your fingertips.

Check stock, find cross references, quote prices, knowing that the price you quote is based upon the best competitive information available in the industry.

OPSoftware has partnered with several system providers to bring you an integration tool set we call eQuip.
eQuip is an integration tool developed by OPSoftware with the purpose of allowing our customers to choose from the most popular web store providers without concern for the backend system they use.
eQuip provides a common core accounting system without regards to your front end system. This system allows our customers to be web store independent; if your web store provider fails to meet your expectations, you can now feel free to choose a different provider without the fear of having to learn a new accounting system!
The basic functions of eQuip are as follows:
Download your orders from any of the most popular web store providers
Map any new customers to QuickBooks
Review, check stock, select order options and send the orders to the wholesaler
Post the orders to QuickBooks as an invoice or sales order
Additional features include:
Import your customers into QuickBooks
Import your stocked items into QuickBooks
Process purchase orders created in QuickBooks
Review total open order item counts for the possibility of creating carton orders
Create Profiles for the purpose of quickly changing the wholesaler options at the order level or line level
Receive and process purchase orders
Receive and post wholesaler invoices
In addition to the QuickBooks interface, LogicBlock users can:
Get your orders via LogicBlock's web service
Post the orders directly into your DDMS system!

You can now take advantage of Item411's comprehensive chain data regardless of your back-end system provider.
Connect411 connects Item411 to your back-end system making contract creation and updating simple and easy.
Using Scheduler411, you can keep your back-end contracts up-to-date with current chain pricing from the Item411 Website.
Available for the most popular system providers including:

Add chain store data and contract pricing to any web site or shopping cart!
Whether you have a custom website or a hosted website, let us show you the advantages available to you via our power pricing web service.
Implement Match or Beat pricing...
Add chain displays...
Create "You Saved" displays...
Custom chain, wholesaler, or buying group pricing...
Chain Data File Downloads

For those dealers not ready to invest in Item411, we offer a service that allows you to get our competitive information in a downloadable Excel file.
We can set you up to get our competitive information file just once or set you up to receive the downloads on a recurring basis.